The First Order's top officers travel in Upsilon-class command shuttles that look like grim birds of prey. These ships' massive wings are packed with defensive systems to protect their valuable passengers. The upper wings contain advanced sensor suites that scan for enemies, while the lower wings house efficient shield projectors and powerful jammers. Upon landing, the wings rise from flight mode and then retract, encasing the upper wings' sensor arrays in thick armor.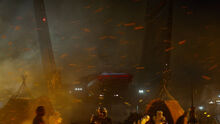 Ad blocker interference detected!
Wikia is a free-to-use site that makes money from advertising. We have a modified experience for viewers using ad blockers

Wikia is not accessible if you've made further modifications. Remove the custom ad blocker rule(s) and the page will load as expected.